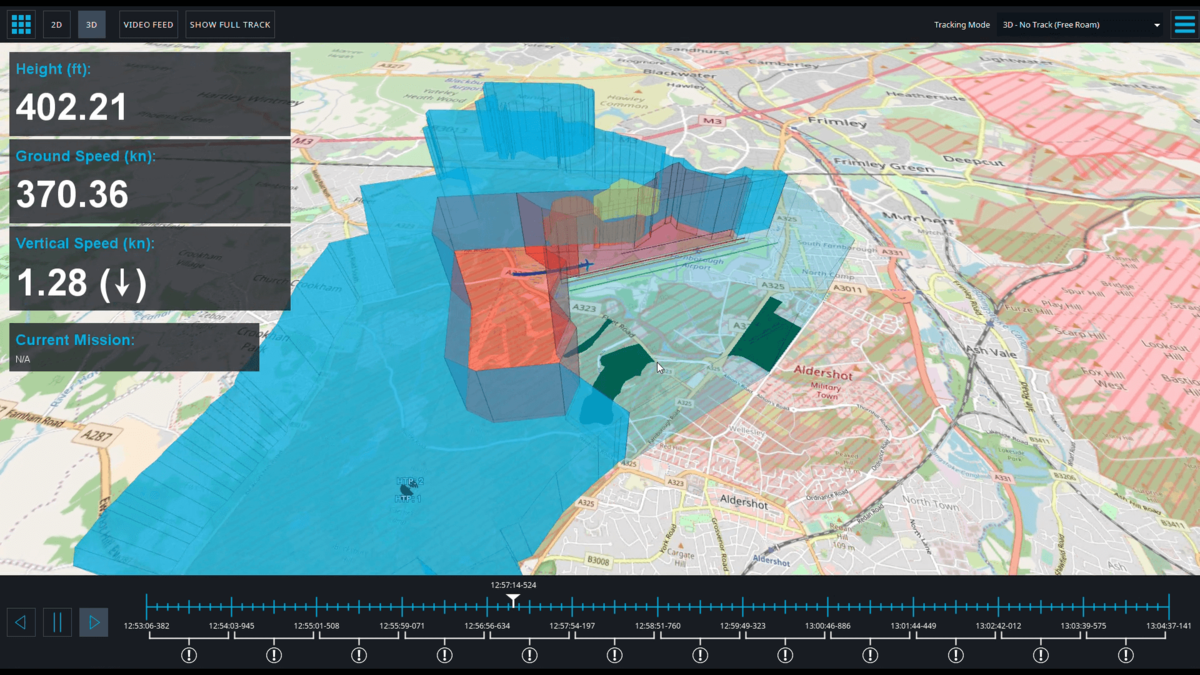 01 Jan 2019
Published in: Blog
---
borwell team support Farnborough Airshow 2018
---
The borwell team had a part to play in the Farnborough Airshow 2018. A team from the QinetiQ Farnborough site commissioned the borwell team to produce a front-end software display, to provide Situation Awareness to the Flight Safety Team responsible for the Airshow. The QinetiQ team provided a compact tracking RADAR and an optical camera, feeding the track data and video images in real-time across a microwave link to the front-end Airshow Monitor display software. They contribute their know-how and expertise.
Farnborough Airshow – Validation Week
Validation is the process where each display is tested against stringent safety conditions and air space constraints. The Town of Farnborough is just to the East of the Airport, Aldershot to the South, Cody Business park and the Golf course are to the North. Above the Airport are several Civil Air Traffic corridors. Represented as custom polyhedrons, some had height or speed rules. These rules were triggered if aircraft went into, out of, or too fast in these polyhedrons.
Each flying display was recorded in 3D and 4D, with the corresponding video captured too. All the flying displays were captured within a self-contained mission file. This can be replayed to allow review and adjustments to be made to an individual flying display.
BBC One Show
A feature was recorded by Farnborough International News Network. This was aired on the BBC One Show on Wednesday 18th July.
The QinetiQ customer visited the borwell exhibition stand on the Tuesday afternoon. He said "It's going great, happy Customer!" and shook Steve Borwell-Fox's hand.
Steve Borwell-Fox, the MD of borwell said "I am really proud of this project, and proud of our team. Many of our team had a role to play in planning, designing, building, testing and operating this software. Working with QinetiQ has been excellent."
"We have been brought in as Visualisation experts, and treated with great respect by the QinetiQ Project Manager and their technical team. We were greeted like VIPs at the Farnborough Airshow, and had our passes upgraded to allow us to go 'Airside' to see the team operating the software."
Being part of Midlands Cyber has given us valuable connections within the Cyber community both in the UK and US, giving us valuable knowledge and connections to applications that we have utilised within our range of software products and services to our clients. It has also given us a platform to promote our business to the global stage.
Jennifer Long
IceBlue
"Midlands Cyber is an ideal platform to collaborate with like-minded industry peers, share knowledge and raise awareness of our expertise within a network of regional businesses."
Air-It
"Our location in the Midlands gives us reach to most of the UK in 2-3 hours by road/rail. This has allowed our business to remain and expand in one location, without having to establish satellite offices. The location also gives us easy access to Birmingham and Heathrow airports, which allows us to travel internationally to many global destinations."

Borwell
"The Midlands is an important region for the majority of our target customer verticals that are relevant for us including Connected & Automated Vehicles, connected transport, Industry 4.0"

CyberOwl
"Midlands Cyber has provided support to Data Solver as a start-up company; increasing our visibility and helping us to promote the solutions we offer. With the backing of Midlands Cyber, we will have the opportunity to network with other local exhibitors, whilst also making contact with potential new customers and partners visiting the team within the Midlands Cyber Engine Pavilion."

Data Solver
"Being part of Midlands Cyber is extremely advantageous. As a region the Midlands is ideally placed to become the main centre of excellence for UK businesses and Academia within the Cyber space."

METCloud