Step up your cyber security
Date: 28 Jul 2021 to 28 Jul 2021
Time: 10:00am - 11:00am
Location: Virtual
Together with the West Midlands Regional Cyber Crime Unit, we are hosting a webinar titled Step up your cyber security.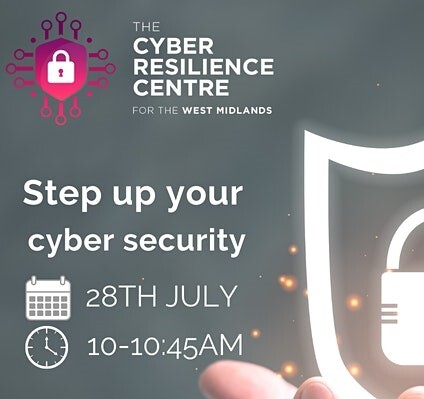 The annual cost of?cyber-attacks?on small businesses is thought to be £4.5billion, however, 80% of cyber-attacks are preventable by adopting the steps and guidance provided through the government-backed Cyber Essentials scheme.
Join the WMCRC and West Midlands Regional Cyber Crime Unit (RCCU) as we deliver a webinar designed to provide you with some basics on cyber security hygiene within your business. This webinar will place a particular focus on those within the sports/leisure and entertainment industries.
Hinesh Mehta, Head of Cyber and Innovation for The Cyber Resilience Centre for the West Midlands will cover the effect that cyber crime has on businesses, the UK Law enforcement response, the history of cyber crime and current threats.
Detective Constable Pat, a Protect Officer with the West Midlands Regional Cyber Crime Unit (RCCU) will cover the NCSC's Cyber Aware principles, the risk of social engineering to businesses and how cyber criminals can find your online vulnerabilities.
The webinar will take place on Zoom, once you have registered you will receive an email confirmation containing the Zoom link and login details.
Resilience strategies for tech entrepreneurs expanding overseas
06/08/2021
Maryland and Midlands Cyber - Business Matching Event!
18/08/2021
AI for Smart Manufacturing in Japan Pitch Session
26/08/2021