Risk, Resilience and Reward with the WMCRC and NCSC
Date: 22 Jun 2021 to 22 Jun 2021
Location: Largely virtual
Join The Cyber Resilience Centre for the West Midlands and the National Cyber Security Centre for our latest webinar on Thursday 22nd June from 2pm.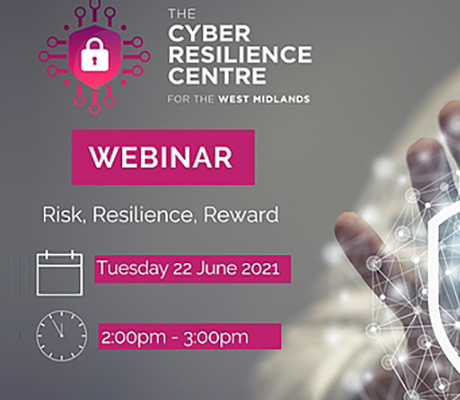 Hinesh Mehta, Head of Cyber and Innovation for The Cyber Resilience Centre for the West Midlands will deliver a webinar advising companies on how they can learn some practical and simple steps to keep their business and clients safe online. Hinesh will also cover the effect that cyber crime has on businesses, the UK Law enforcement response, the history of cyber crime, and current threats.
Chris from the NCSC will cover: The impacts of a cyber incident using real examples from small businesses, how to access the NCSC's helpful free response and recovery Guide and provide access to a free kit called 'Exercise in a Box' -an online tool from the NCSC designed to help businesses test and practice their response to a cyber attack. Exercise in a Box Logging Made Easy Top Tips for Staff.
All webinars will be held via Zoom, register now to be sent the Zoom link prior to the webinar.

Midlands Cyber at Birmingham Tech's Summer Social
17/08/2022
Academic 'Cybersecurity Partnership project' - Nord France Invest and Midlands Cyber
04/09/2022
Developments in Security For Aerospace and Defence
20/09/2022