Recruitment for BetaDen Cohort 5 is Open - Apply Now!
Date: 01 Jan 2022 to 23 Nov 2022
Time: Taking Applications Now!
Location: Malvern Science Park
Midlands Cyber partner, BetaDen Commercial Tech Accelerator at taking application for their latest cohort.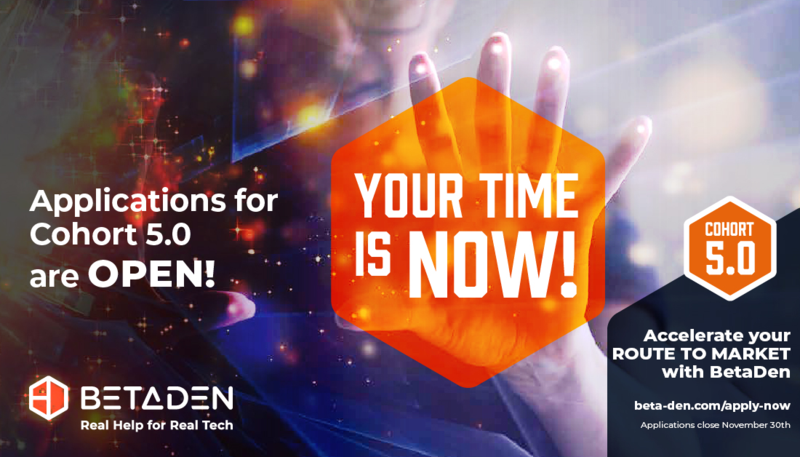 BetaDen, the commercial technology accelerator based alongside one of the country's first 5G testbeds based in Worcestershire, strives to develop early stage technology companies with future tech-based solutions and drive them to market or investment readiness.
Having supported 30 early-stage tech companies, that are looking for the next generation to inspire advances across multiple industries including AI, IOT, 5G, Cyber, Edge Computing, Biometrics, Meditech and Industry 4.0. As well as supporting entrepreneurs and early-stage businesses, it also provides a space in which established organisations can develop their tech-related R&D activities locally but off site ; offering an environment for innovation to flourish.
The BetaDen package worth over £50,000 includes:
A fully supported 9-month program
Access for Product Test & Evaluation on Worcestershire's 5G testbed
Support from Technical and Commercial mentors for advice in: Strategic Marketing, Raising Investment, Product Development, Intellectual Property, Accounting and Structure, Mindset and much more
Contracted £1,000 marketing support fund per founder Dedicated free office space within Science Park environment
Access to the ecosystem and extensive BetaDen Technology Network
Events and Tech Talks
BetaDen's impact and success is reflected in the accomplishments of their Cohort Alumni, with business partnerships being established between cohort companies and larger organisations such as HS2, The NHS, RoyalMail and Network Rail. Successful applicants will enjoy being part of a varied cohort of businesses and will be equipped with the resources and experience that BetaDen can offer, accelerating their business models to commercial market readiness.
Claire Owen, receiver of the Innovator Award at the Women in Tech Awards 2021 and a Cohort 3.0 alumni agrees, "it's amazing how far we've come in such a short space of time and that is thanks, in no small part, to the support we've received from BetaDen".
For more information or to submit an application, use the link below. Applications to apply will close on the 30th November, for a January 2022 start.
Applications to accelerate your route to market are open!
Speaker Opportunity for InfoSec 2022
30/11/2021
Cyber Fringe Festival 2021
06/12/2021
GRANT - ISCF digital security by design - software ecosystem development
08/12/2021