Cyber Security for Small Businesses
Date: 23 Sep 2021 to 24 Sep 2021
Location: Virtual Event
Cyber security for small business leaders. Learn the minimum security an SME needs in 2021 with the West Midlands Cyber Resilience Centre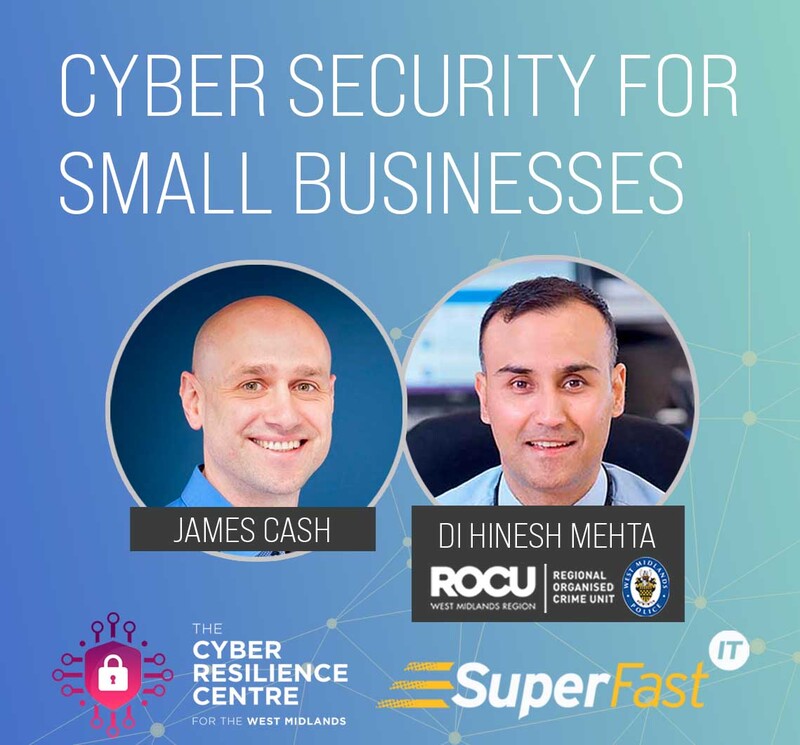 Learn the minimal cyber security a small business needs in 2021. Cybercriminals are getting ever more sophisticated. Cybersecurity doesn't have to be expensive, but basic controls are needed in every business today to prevent becoming a cybercrime victim.

The message is clear, it's not a matter of if but when criminals target your business. The good news is small businesses can prevent most cybercrime by implementing basic cybersecurity measures.
This online event is for small business owners and senior leaders responsible for their business' security but are not cybersecurity experts.
By the end of the webinar you will:
Learn the minimal security needed for an small business in 2021
Understand how to protect your businesses with cybersecurity measures that are proportionate for an SME - in terms of cost and feasibility
The history of cybercrime Who the West Midlands Cyber Resilience Centre (WMCRC) are and how your business can access their free membership and discounted cyber services.
Take advantage of our free business security audit Have an opportunity to network with other business leaders following the webinar
The webinar will answer some of the most frequently asked questions about cybersecurity and cybercrime, including:
Do I need Cyber Security? What proportionate and affordable security controls do I need for my small business? and how good is my business security?
Webinar Speakers
James Cash, founder and managing director at Superfast IT Lead for cybersecurity at Superfast IT, James has 20 years experience in IT and security for small and medium sized businesses.
DI Hinesh Mehta, previous head of cyber and innovation at West Midlands Cyber Resilience Centre and Detective Inspector at West Midlands Police Regional Cyber Crime Unit (RCCU) Hinesh has been a police officer for over 16 years, most recently the Detective Inspector for the Regional Cyber Crime Unit.
Cyber Security for Small Businesses
23/09/2021
Protecting Manufacturing Assets against the Increasing Cyber Crime Threat
28/09/2021
How to expand in France and unlock the EU market?
01/10/2021