Developments in Security For Aerospace and Defence
Date: 20 Sep 2022 to 20 Sep 2022
Location: QinetiQ, Malvern Hills Science Park
QINETIQ and Collins Aerospace, join The DCMS Recognised Cyber Cluster for the West Midlands as keynote speakers at their latest event.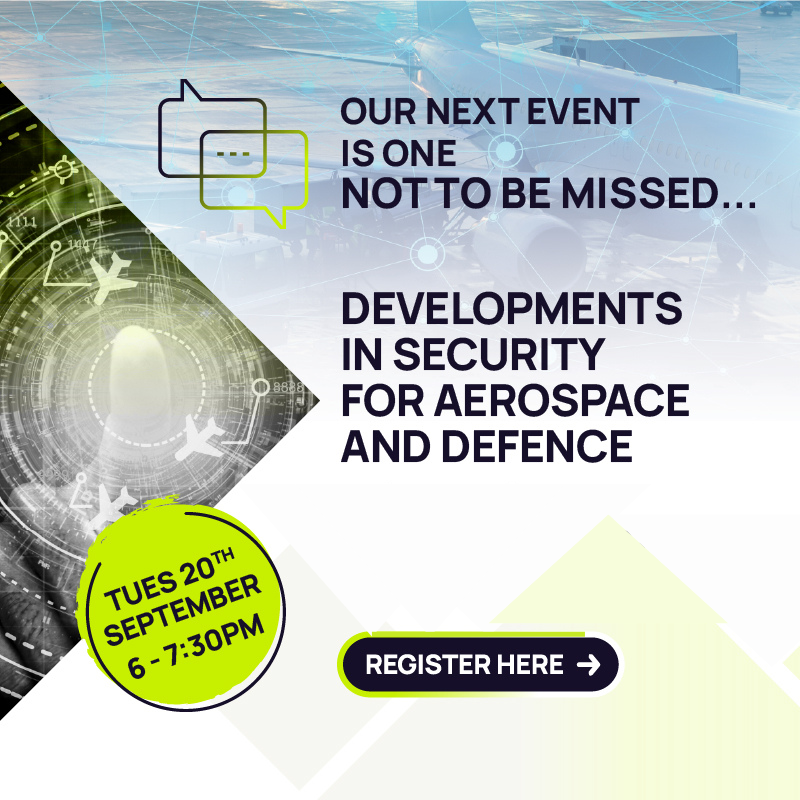 Don't miss the 'Developments in Security for Aerospace and Defence' event on the 20th of September 2022.
Companies in the Aerospace and Defence sector face a particularly high risk of cyber-attacks - cyber threats are more advanced and common given the sensitive nature of the industry. Hackers in this space are often more sophisticated than with standard cyber-attacks, considering that breaches in this sector can have significant security consequences on a national level.
Industry developments in information technology, surveillance, and reconnaissance systems along with an increasing volume of classified data gathered systems have made the use of reliable and enhanced cyber security solutions business critical.
'Developments in Security for Aerospace and Defence' is the third instalment in a series of industry-specific events from Midlands Cyber Security Cluster. Following the success of 'Fintech Secured' and 'Advanced Manufacturing', the cluster are thrilled to launch this latest event.
Midlands Cyber's Security for Aerospace and Defence event aims to showcase the work of leading stakeholders in the research and development of cyber for national security. Don't miss your opportunity to be a part of the conversation and join West Midland's most exclusive security and defence event!
Register now and hear deep dive insights from our expert speakers, QINETIQ and Collins Aerospace in Malvern.
Additional Details To Be Announced!

Midlands Cyber at Birmingham Tech's Summer Social
17/08/2022
Academic 'Cybersecurity Partnership project' - Nord France Invest and Midlands Cyber
04/09/2022
Developments in Security For Aerospace and Defence
20/09/2022